Converty - Quick Convenient Conversion
Available Now at the AppStore - $1.95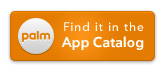 There are loads of conversion applications.
All the ones I have tried are slow and frustrating. They make you go through unnecessary steps.
1) select a category 2) select what to convert from 3) select what to convert to 4) enter your value
Converty gets rid of that. Just tap on the row you want to convert from and as soon as you press enter, it is converted to all the units at once.
Simpler. Quicker. Better! It's the Zen of Palm.
Converty handles currency conversion and unit conversion in two seperate cards. You can keep either or both open at once.
Currencies are updated online when you press the refresh button (data comes from Yahoo)
You can select from 142 currencies. -Just tap on the 'More Currencies' button to select the ones you want shown in your main page.
Conversions work between 482 unit types in 27 categories from Temperature and Mass to Torque and Speed
Again, only the obvious ones show by default, but you can just tap on the 'More Units' button to select which ones you'd like to see in your main page.

Enjoy!