News Feed - Powerful RSS News Reader for Web OS
Available Now at the AppStore -
Free!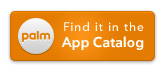 News Feed is a powerful RSS News Reader.
It downloads feeds and news in the background and stores them for you to read when you are ready.
You can add custom RSS feeds from your favourite sites, and reorder or delete existing feeds.
It comes pre-loaded with feeds from the BBC, Engadget, The New York Times, Slashdot, Dilbert and many more.
News Feed is based almost entirely on Palm's example code, which they provide for us all to enjoy.

Enjoy!
Ongoing Development for News Feed...
News feed is based almost entirely on Palm's sample code. I did a bit of work on the code to allow it to show more details from the feeds, and to be a bit more resilient about handling problematic feeds.
After that, I uploaded it to the store, paid the $50 to make it available and will be mostly leaving it at that.
I think it's a useful app, and I hope you'll enjoy it - however it isn't one I plan to actively develop.
There are definitely problems with the app; Notably, it isn't very good at updating automatically. This is partly due to the current background processing bug in Web OS (which should be resolved in a future update), and partly issues with the code. If news feed stops updating (and shows the greyed out 'update all feeds' option, then just quit and restart!
I may have a go at improving this - but equally, I may not!
Hopefully you'll find the app useful nonetheless!
Rob