Control iTunes from your Pre!
Available Now at the App Catalog- $4.95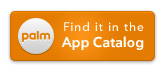 All the standard controls
Play, Pause, Volume and Position.
Skip forwards and back, Previous and Next track.
Powerful Browsing
Browse by Artist, Playlist, Genre or Album
Play individual tracks or the whole collection
Includes special iTunes playlists like the Music playlist (which has all your music), 'Recently Played' or 'My Top Rated'
Detailed Searches
Search by genre, artist, track name or album
Compatibility:
Compatible with Windows XP, Vista and Windows 7
Compatible with Mac OS 10.5 and later
Simple setup - Run the iTunes Helper on your computer. It will pair with your Pre.
Note:
This application is not in any way supported endorsed, or written by Apple. It is not guaranteed to work with future versions of iTunes.

Or you can download the Free Light version here
Already purchased?
Reviews
Video Review - "Overall I was impressed with the responsiveness of the app and the interface is clean and easy to use." - WebOsRoundup.com