The Quickest Timer there is !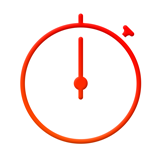 It is surprising how much you can do in two minutes.
One of the key disciplines of the GTD ® process is the 2-minute rule:
"Do it. If an action will take less than two minutes, it should be done at the moment it is defined."
So Get Things Done. Respond to emails. Do your online banking. Read an article. Make a phone call.
2 minute timer will help you to learn the skill of judging 2 minute tasks by giving you the simplest possible way to measure how long they take.
One tap on the application icon and your 2 minute timer will run. You will see the scroll wheels ticking down to show you how much time you have left.
Your timer is displayed with the animated wheel showing the countdown.

Fully Customisable:
Flexible Alerts
Pick from a selection of alert sounds, from a traditional beep to the factory whistle or howling wolf.

Select the number of times your alert should sound

Set vibration on or off
You will be surprised at how much YOU can do in 2 Minutes!
GTD® and Getting Things Done® are registered trademarks of the David Allen Company. This application and Hobbyist Software are not affiliated with or endorsed by the David Allen Company.