Relax - Control - Enjoy !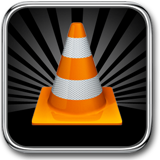 | | |
| --- | --- |
| | Only $ 4.99 |
VLC Remote® turns your iDevice into a remote control for VLC media player.
Awarded Gizmodo's "Essential iPhone App" 2008, 2009 and 2010. Awarded T3's "Best iPhone Apps" 2010.
VLC is a great, free and popular media player famous for being able to handle almost any file format.
VLC Remote® lets you sit back, relax and control things from your easy chair!
It is a joy to use - no more reaching for the mouse when you want to pause your TV, select the next episode, or play some different music.
VLC Remote is now a Universal app!
VLC Remote works perfectly on your iPhone _and_ your iPad.
Features are the same for both, but the if you run on your iPad, you'll see a different design which makes the most of the extra screen size. Click on the links above to see the different screenshots.
Features include:
Easily control VLC from your sofa!
Works with VLC on your Mac, PC, or Linux machine
Automatically scans your local network for VLC players
Full browsing control on your computer (select any file on your computer to play)

Control all standard functions like stop, play, pause, volume, position, next track...

Full DVD controls
Turn fullscreen on and off
Use the graphical equaliser
See your cover art

Control subtitles, aspect ratio, audio track and delays

Use the picker control for fine control of volume and position

View the playlist and play files from it
See your cover art
Use the graphic equaliser

Easily access external drives

Free setup helper quickly configures VLC for use with the remote
VLC Remote will work with the iPhone 3GS and later. It won't work with the iPhone 3g - but you can use Ye Olde VLC Remote on the 3g.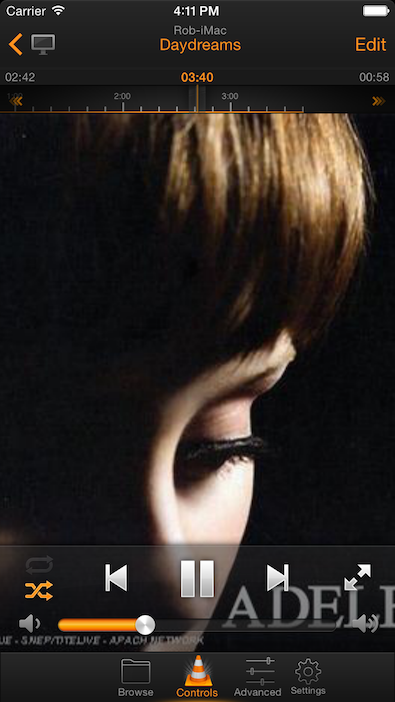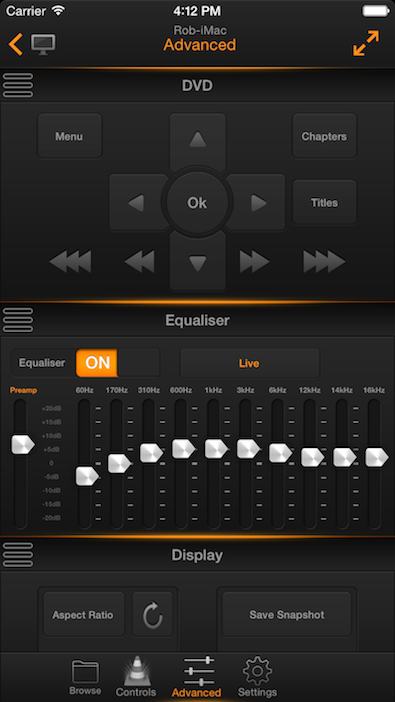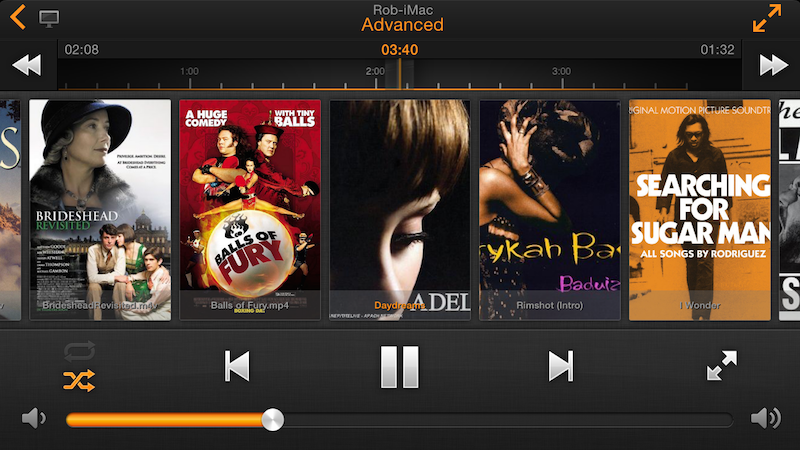 Relax - Control - Enjoy
| | |
| --- | --- |
| | Only $ 4.99 |
Reviews
4 Stars "Basically, if you use VLC and you have an iPhone you will soon find that this is an essential app to enhance your home movie experience."
read the review at T3.com
5/5 "Simply put if you have an iPhone or iPod Touch and use VLC on your Computer then you need this app."
read the review at AppCrunch
"the best way to go when it comes to controlling your video"
see the video review at the Daily App Show
"Pour les professionnels comme les particuliers, VLC Remote est l'application idéale pour ne plus faire des présentations vieillottes."
read the review at sosiphone
"Easy to to use remote control for VLC from your iPhone or iPod Touch. Ability to browse your entire computer including external and network drives."
read the review at How To Geek
"Fans of the VLC Player will love the VLC Remote for iPhone." - Butterscotch.com
"Everything about this app is a must have from the fast loading time to the easy to use controls for the VLC Player this app is a must have for anyone that uses the VLC Player"
read the review at I use this app
"Tra le applicazioni create per vivere e lavorare su iOS c'è questa, targata Hobbyist Software, la quale sorprende per qualità e stabilità all'interno del melafonino."
Read the review at formobiles.info

"VLC Remote is the best app available for controlling VLC on your computer from your iPod Touch"
App of the Week: iPod Touch News
" the VLC Remote app is priceless to me ... I definitely recommend anyone with an iPhone or iPod Touch (or a Pre) purchase this"
read the post at Zath.co.uk
"an app which caused me to quite literally clap my hands with glee once I realised just what it could do.... I don't care how much of a nerd I sound when I say I don't think a piece of software has ever delighted me quite so much as this."
Junk Shed
5/5 stars - "will turn your iPhone/iPod Touch into a full fledged, fun to use, and extremely convenient remote control for VLC Media Player. The name of the app is VLC Remote (no surprises there) and it rocks. "
read the review at AppBoy.com
"Needless to say, we loved this app for everything it's got."
read the review at AppsTouch.com
5/5 stars - "What I love most about this app is its speed, ...you can even browse all drives on your PC/Mac, including external drives"
read the review at Tech 'n Marketing
4/5 Taps - "It's time to sit back and enjoy watching those downloaded media right from the comfort of your lazy chair."
read the review at One More Tap
"No more scrambling for the mouse to pause the movie when the home phone rings"
read the review at TH.EWALR.US
"fairly simple to set up on your computer and hook up over a wireless network, and work well in conjunction with the new playlist features"
read at Lifehacker
"So imagine the excitement when I stumbled upon this amazing little app"
read at Tech n Marketing
"One of the best apps of 2008"
read the review at Gizmodo
"So if you're streaming video from your computer to your TV or using VLC on your home theater PC, control is now a lot easier."
read the review at Gizmodo